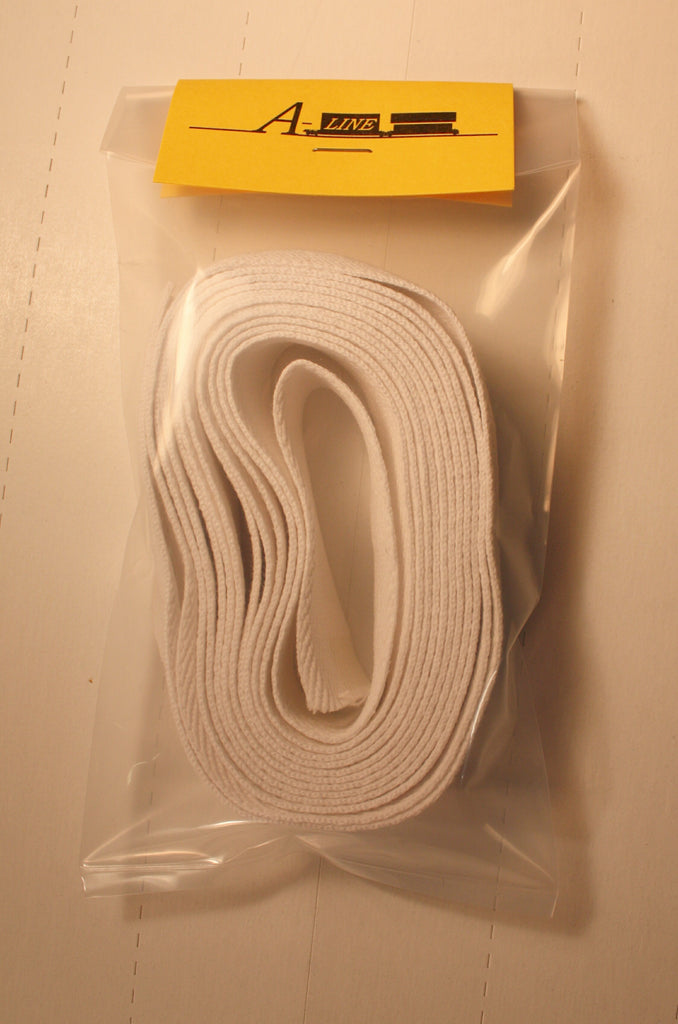 SOM-1003 HO track cleaner car cleaning Strip Material (3 yards) used on Shine-O-Matic car and liquid tank cars (See additional info below on making slider block holder !)
---
Our Cleaner Strip material works great on your liquid tank cars. Our material is heavy weight material and will hold and dispense fluid a lot better and more even. Our material has a great price for the amount you get!
Most effective way to clean track,  Non abrasive cleaning ! Can be used dry or with liquids. We recommend using Mineral Spirits for cleaning fluid, this will not damage Slider Block or car floor.                                                                  Can be used in conjunction with liquid dispensing tank cars   Can be operated in both directions, pushing or pulling
As shown in pictures below, white Cleaning Strip material is warped around the Slider Block and taped with masking tape (we recommend using 1" wide  masking tape. Make sure you use long enough piece to contact as much of block as you can.)
As the Cleaner Strip gets dirty, just rotate the block to new clean position. When one side of strip is used up, flip strip over and use the other sides. 
See additional pictures below showing how to make and use slider block loader to help when attaching cleaning strip material to block.
Holder made out of wood.  Click to buy Block Loader kit
Space both trim pieces apart by using block and cleaner strip material to get the right tightness and spacing.
Place block and cleaner strip material in holder and trim to right length so when cleaner strip material is folded over block it meets on the top. Or you can precut strip to 5 1/4"  piece and using the holder attach to block.
Then tape cleaner strip material to block. Use 1' wide masking tape or equivalent
and make sure tape extends down side of block to get the most contact surface.
You might want to buy additional blocks to be able to keep cleaning track by exchanging blocks as needed. After one block is used on 3 sides remove and replace block with new one. Then as new block is cleaning you can get first block ready to exchange without having to stop cleaning. Just remove and replace over and over again. Before you know it your layout will be cleaned!

Go to:    SOM-1004   HO-track-cleaner-car-slider-block-used-on-shine-o-matic-car
SOM-1005   HO-track-cleaner-car-slider-block-used-on-shine-o-matic-car with weight included
---
Share this Product
---
More from this collection